WHAT'S ROBOTIS UP TO NOW?
Here's an update on Robotis, the south Korean manufacturer known mostly for their precision servos designed for robots and also their compete robotics kits.  They continue to push the envelope in both directions: both low cost (good value) complete servo motors and in the other direction to high performance servos and high torque, high reduction pancake gear reducers for commercial and industrial grade robotics.
ECONOMICAL SERVOS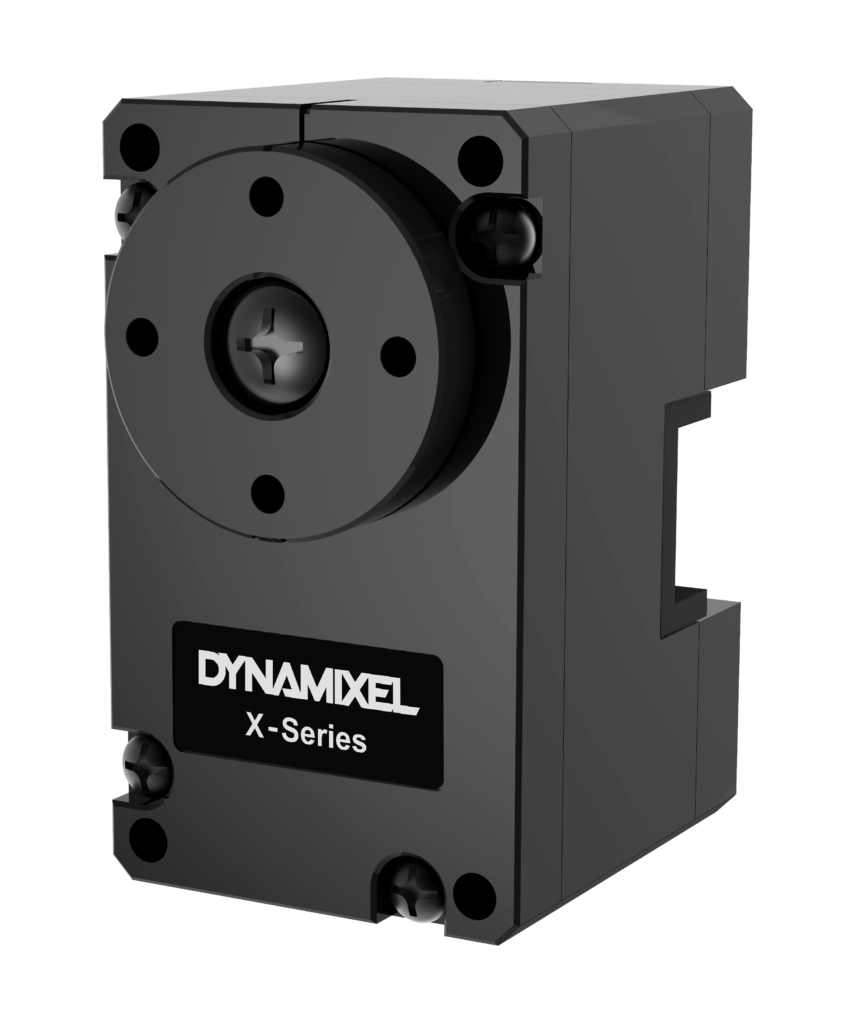 Robotis has branded their all-in-one servomotor, drive, gear reduction and serial (daisy chainable) controller under the DYNAMIXEL name, also referred to on their web site as the X- Series.  To make entry into servo control easy, they have established a price point of $23.90 for their bottom end hobby servo.  Like some of their other servos, these can be controlled by an Arduino interface.  However, if you want a ready-to-go bare bones setup for prototyping, and don't have an Arduino controller then the OpenRB-150 starter kit, which is fully compatible with the Arduino ecosystem, can be had for a mere $45.90.  The kit consists of the OpenRB-150 microcontroller and an XL series servo motor.  Robotis has taken pains to make the powering and programming of this easy, by providing various DC voltage options (including a standard USB-C connection) to power both the RB-150 and the attached servomotor.  The Open RB-150 microcontroller is also available on its own for $24.90.
Stepping up to the next tier in the X- Series, is the XC (C = Commercial) servo motor which is basically the XL series with an upgraded motor and metal gears for more precision in motion. It otherwise is a drop-in for the XL equivalent and a step-up in performance. All the driving options are the same as the XL series and it's priced at $89.90
Speaking of driving options, both the XL and XC have the same set of options (tunable through addressable PID control) as follows:
Current Control Mode: Continuous
Velocity Control Mode: Continuous
Position Control Mode: 360 [degrees]
Extended Position Control Mode: ±256 [rev]
Current-based Position Control Mode: ±256 [rev]
PWM Control Mode: Continuous
As usual Robotis has accessories available for mounting and connecting servomotors along with links to software to help with set-up and programming.
THE WHOLE X- FAMILY

Above, is a table showing all of the model variations under the X-Series. Anything outside of the XL or XC models starts at $419.90 for mid-level (XM) performance with the XD (D = Durable) series starting at $769.90.  These are all metal parts, industrial grade, 9.9 Nm of stall torque and much heavier duty with longer lifetimes. By making the XL and the XC available at such a low price, Robotis is clearly appealing to hobbyists and trying to draw in first-time users.  This also makes it economical to bring STEM learning into the classroom.  Full blown servo motors are not usually this inexpensive, so it should really help encourage the maker community in taking half-baked ideas all the way to fully baked working prototypes.
ROBOMOTION FOR THE BIG BOYS
At the same time that Robotis is encouraging the entry level involvement in robotics and automation, it is also extending their reach at the high end industrial side of the robotics market. They are introducing a low profile, high ratio, step-down gearhead as a solution for mechanical connection and relative motion at robotic joints. Below is a table of the three model families that they have at the moment – two members per family so far.
| | | | | |
| --- | --- | --- | --- | --- |
| Model | OD X H or L X W X H | Peak Torque | Weight | Backlash |
| DYD 17-051 | ∅78 x 34.2 mm | 55 Nm | 600 g | < 3.0 arcmin |
| DYD 17-099 | ∅78 x 34.2 mm | 80 Nm | 600 g | < 3.0 arcmin |
| DYD14-051 | ∅68 x 30 mm | 24 Nm | 400 g | < 3.0 arcmin |
| DYD14-099 | ∅68 x 30 mm | 35 Nm | 400 g | < 3.0 arcmin |
| DYD11-033 | 43 x 43 x 23.5 mm | 8.5 Nm | 196 g | < 3.0 arcmin |
| DYD11-051 | 43 x 43 x 23.5 mm | 17 Nm | 196 g | < 3.0 arcmin |
All of these DYD (Dynamixel Drive) robotic joints use a Cycloidal Gear Drive. This is a well-known approach to performing a single step reduction in a compact housing. When compared to a harmonic drive, it has the advantage that it doesn't require a flexible gear engagement.  A harmonic drive has a flexible gear "cup" which makes it vulnerable to fatigue.  It also requires enough length to accommodate flexion which can make the harmonic drive less compact than an equivalent cycloidal drive with the same torque rating.  These cycloidal drives are well suited to robotics joints especially if you want to exercise fine control over movement. Some examples might include precise placement of masks for wafer fabrication, robotic surgery, or just to match the torque characteristics of a particular load. That's a wrap-up of the latest for now, but I'm sure that Robotis is hard at work on some new surprises in the word of Robotics and Automation.  Stay tuned.
Video of some cool creations powered by DYNAMIXEL