Upgrade the Robotis MAX-E1 to MAX-E2 and Double the Action!
If you've been looking for a serious humanoid battle Bot, then you don't have to look any further than the Robotis Engineer Kit 2 (MAX-E2). This is an upgrade kit to the Robotis Engineer Kit 1 (MAX-E1) that includes six additional servos (five XL430 servos) and one SM-10 small servo for waist motion. It also includes a full front multi-color LED panel (Red/Blue/Violet). With this upgrade kit you really get three additional robots in one which allows you to also build Scorpi (Scorpion) and Commando (Tank). However, we're focused on the MAX-E2 Battle Bot for this review.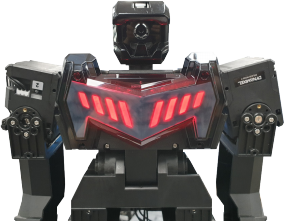 SLICK KIT
Starting with the standard Robotis Kit 1 (MAX-E1), the Kit 2 (MAX-E2) really pumps up the action. The kit comes with all the various parts labeled and placed in a set of eight smaller boxes. It also comes with an easy-to-read user manual with illustrations for each step of the assembly. The completed MAX-E2 is noticeably taller, bigger and beefier than the Kit 1 version. And with the XL430 servos at 1.5N-m of stall torque, the MAX-E2 result is faster, stronger and smoother in operation than its "little brother".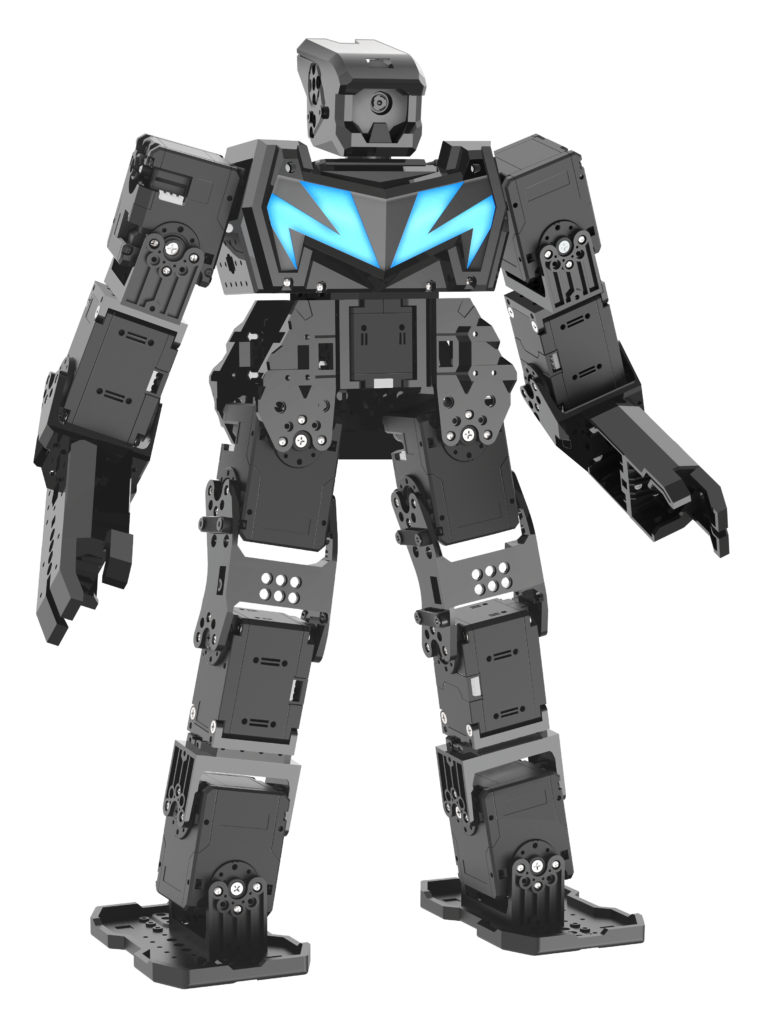 PERSONALITY PLUS
New for the MAX-E2 is an on-board Raspberry Pi Zero-W programming card that is literally mounted directly on this bot, piggyback style. This is also paired with a Raspberry Pi camera module for face and color recognition, color line detection, and video streaming. This last function is not only good for surveillance, but you can also record that knock-out punch you just delivered. It really is a brand-new robot at this point. Once the MAX-E2 is connected to a computer, Robotis' web site helps with loading a new program and installing basic motions to make setup easy. Also, custom motions can be created using point-to-point style programing in the R+Task software.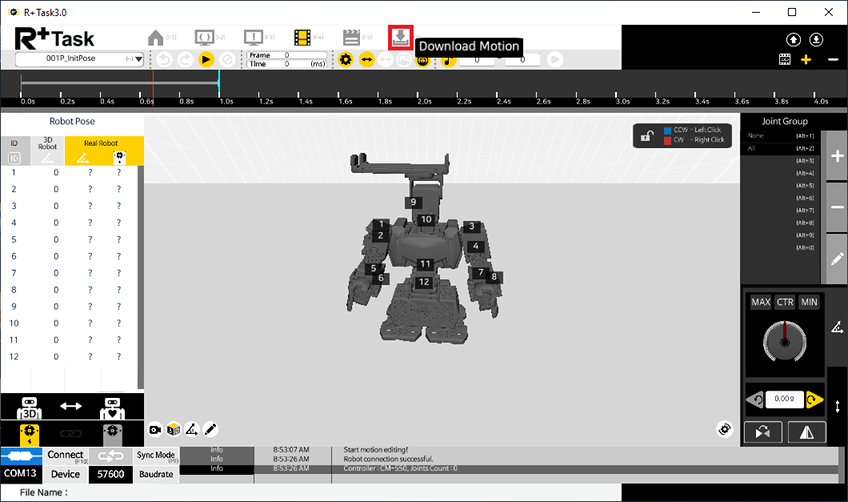 LOTS OF EXTRAS
The MAX-E2 has three different operating modes: normal; gymnastic; and fight. Normal mode has a lot of the regular movements you might expect, like walking, waving, clapping hands. The walking mode is interesting because even though it has a fairly typical sliding gait, it does lift its feet a bit and it moves equally quickly in forward and reverse. In fact, there is a 2X button on the control panel which doubles the speed and allows this bot to move surprisingly fast. Acrobatic mode is a lot of fun to watch, with rolling somersaults, push-ups, a sort of head stand and of course "get up" to recover from a forward or backward fall. This fall recovery move is quick and fluid – almost human like, but with more flexibility.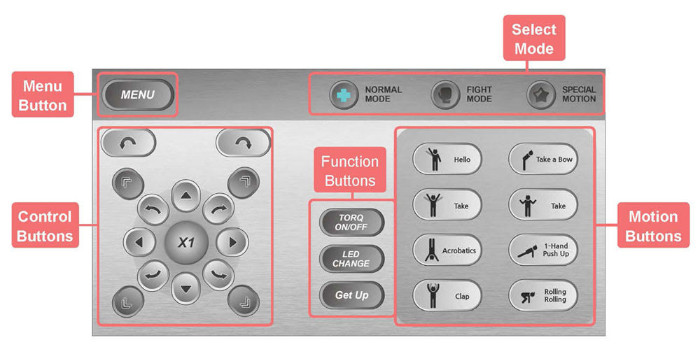 READY FOR BATTLE
Lastly, fighting mode, has a lot of specialized moves like jab, "shake off", punches, and back attack, to counter a sneak attack from behind. Other more passive fighting moves include "resist" in which MAX-E2 will try to prevent an attacker from moving it around by pushing back with its legs, and guard, where his arms come up in front of its face for protection.
A WORTHY BOT
The longer legs and gyro/accelerometer of the MAX-E2, gives it the room to execute more gymnastic/dance-type moves. Forward and backward somersaults are fast and crisp and in fight mode it has a cool "rolling kick" front flip with a face kick move that I haven't seen elsewhere. By taking advantage of the longer, stronger leg movements MAX-E2 is a formidable foe, executing moves with power, speed, and flexibility. Definitely a worthy addition to your battle Bot collection.
Check out this kit and/or other products in the ROBOTIS Shop