This is our first review of a custom-built fighting robot, and it is containing an impressive collection of design features and performance. This is the T5 Hammerhead fighting robot. It is big and packs a punch. Standing 19.3 inches (490mm) tall by 15.4 inches (390mm) wide by 7.8" (198mm) deep and weighing in at 6.6 pounds (2.99 kg) this bot has a lot of mass working to its advantage. In order to move that mass quickly requires 17 high torque servos with 0.86 lb-in (35kg-cm) of torque. Seeing the T5 in action, it's clear that those servos are pumping out the power.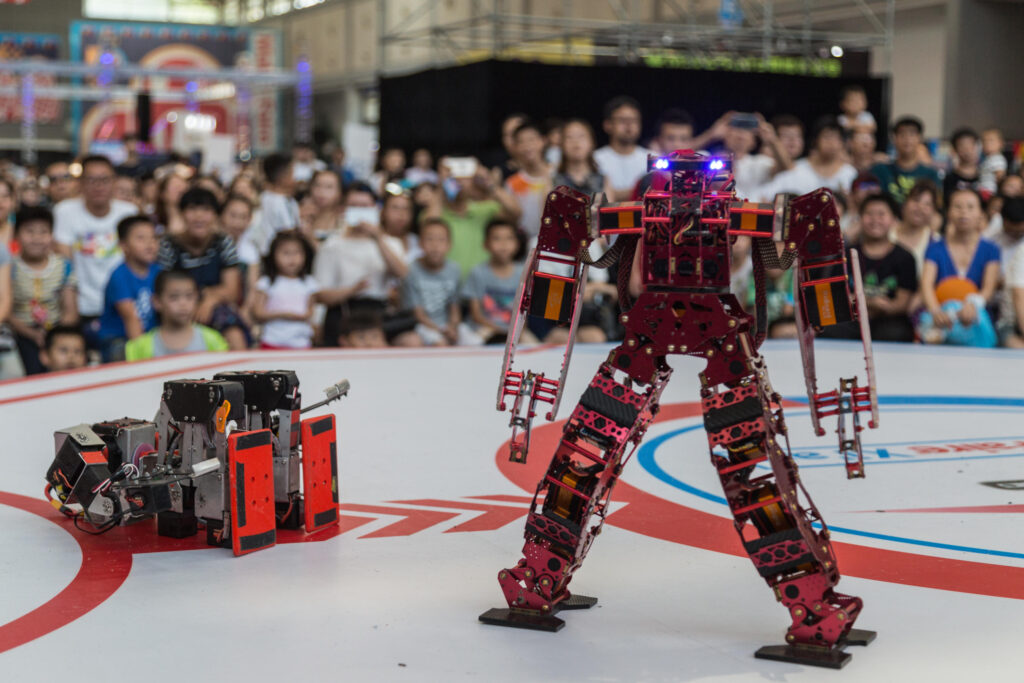 The designer, and custom builder of the T5, who goes by the name of Blood Keith has taken an unusual (and pretty smart) step in separating the battery pack for the servos from the pack for the controller. The servos use a 5000mAh battery and the controller uses a 900mAh battery. Not only does this balance the demand a little better than a single battery pack, it separates the electrically noisy power servos from the quieter control circuitry. This reduces the risk of crosstalk and ensures better overall performance. In addition, forced air cooling has been used to keep the servos from overheating. He has also enclosed the two separate wiring bundles into flexible lightweight sleeves to protect them without impeding their motion.
Mechanically this is a solid design, built with similarities to other same-sized fighting robots, though the design is more judicious in material callouts. Most of the structure is aluminum, to give it strength, but in key areas polycarbonate plastic is used; particularly on the forearms allowing them to effectively act as shields, deflecting blows while absorbing some of the impact. In the critical hip areas, he has used carbon fiber plates for high stiffness with low weight, especially important when delivering a roundhouse punch.
Rounding out the whole package, the controller used is the PeterOne Servo Controller & USB Adapter. This compact unit communicates via Bluetooth and has a built in USB port. This removable USB drive can plug into your laptop and download (or program) a variety of move combinations. Once you plug it back into the controller it automatically uploads the new programs and is ready to go. The controller also has two analog control buttons which act like joysticks for manual control of you want to freestyle with your T5. To see some videos in action or to put in an order, use this link: https://triroboticx.com/category/buy-robot/ If other fighting robots are like 1960's muscle cars the T5 is a hand-built Ferrari.